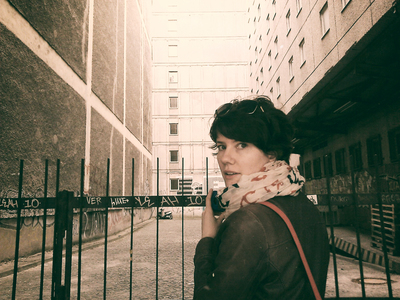 Theresia Anna Ficus was born in 1093 in Frankfurt am Main.
She studied at the University of the Arts in London and at the HFF Potsdam. Through her work as a production designer, she created films like the X-Filme comedy HAI-ALARM AM MÜGGELSEE by Leander Haußman and Sven Regener and the psycho thriller DIE FRAU HINTER DER WAND by Grzegorz Muskala, which was produced by the KLeines Fernsehspiel and One Two FIlms.
She worked on the neo nazi satire HEIL by Dietrich Brüggemann, which premiered at Filmfest Munich in 2015, the dark comedy SEX & CRIME by Paul-Florian Müller (premiered at Max-Ophüls-Festival 2016), and the philosophical thriller GOSTER by Didi Danquart, a fusion of reality and animation which premiered at Filmfest Munich in 2016.
In 2016, Theresia worked as art director at the historical drama WERK OHNE AUTOR by Florian Henckel von Donnersmarck, which tells a story that spans from the early 1930 to the late 1960. In 2017, she again collaborates with Leander Haußmann at the Thalia Theater in Hamburg for the romantic comedy CYRANO DE BERGERAC, which is very well received by critics with special appreciation for the strong, emotional imagery.
Subsequently, she works with Dietrich Brüggemann again, for a Tatort, MUROT UND DAS MURMELTIER, which was on TV in 2019.
In the same year, she filmed HOW TO SELL DRUGS ONLINE (FAST) with director Lars Montag for Netflix.

Theresia lives in Berlin.